EPS (expanded polystyrene)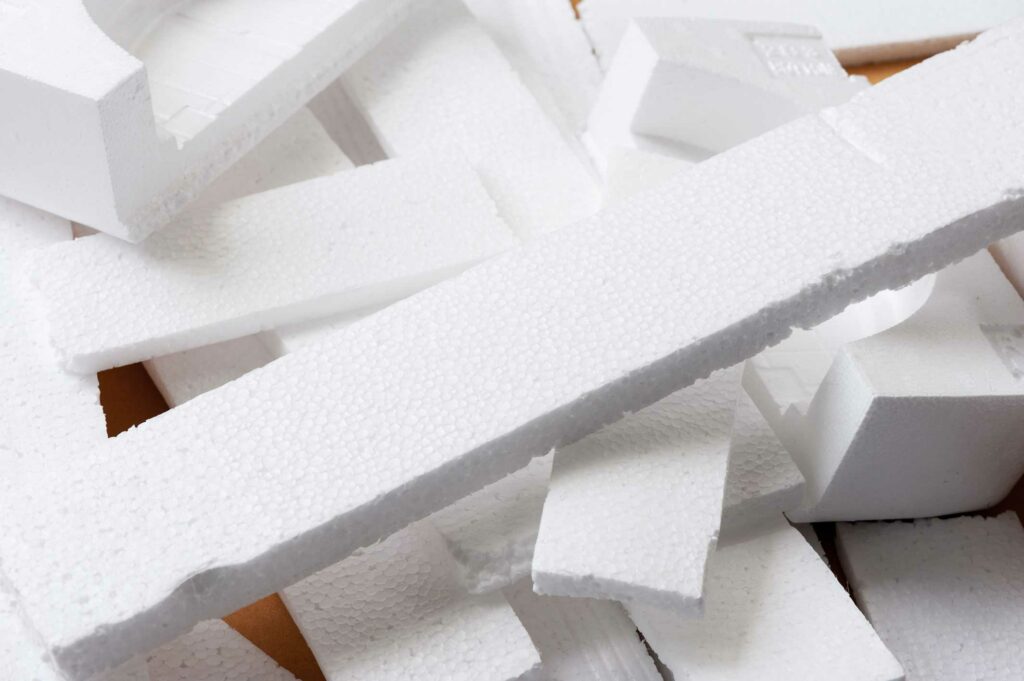 Most people are familiar with this under its old name of styrofoam – today, expanded polystyrene (EPS) is marketed, for example, under the name Airpop®. The advantages of the foamed plastic are obvious and make it popular: It consists of 98 percent air and is extremely light. In addition, it absorbs shocks very well and is used as packaging material or for bicycle helmets. Its insulating properties also make it an important material for façade insulation. Therefore, the question often arises: EPS waste – what to do with it?
Households/citizens/small quantities
EPS from packaging falls under the producer responsibility for packaging for which Valorlux is responsible in Luxembourg and can be disposed of in the Resources Centers.
EPS waste that has been used as packaging and which is regularly accumulated in the household belongs in the Valorlux collection. However, packaging made of EPS is not allowed in the blue bag and must be disposed of via the Resources Center. In 2021, 183.8 metric tons of EPS packaging from private households were collected in Resources Centers (source: Valorlux – central marketing of packaging in Resources Centers).
Examples include the EPS interior of the carton for a PC monitor, EPS balls or snippets from shipping cartons, fruit trays from supermarkets and similar EPS waste from private end consumers. However, the packaging must not be dirty.
Commercial EPS packaging
EPS packaging from companies is accepted by almost all commercial waste disposal companies.
Correct waste separation – what to do with styrofoam from the construction site?
EPS has good insulating properties and is/was often used in the insulation of house façades. Since insulation materials in particular must meet certain fire protection requirements for construction, they are sometimes treated with flame retardants. In particular HBCD, which has been banned in the EU since 2016, is problematic. Therefore, the rule is: EPS produced during renovation, i.e. which has been used as an insulating material, does not belong in the same recycling line as packaging.
Recycling
Today, practically all forms of EPS can be processed, whether non-pressed EPS moulded parts, lightly pressed so-called bale goods or maximally compressed EPS in the form of bars or briquettes. The material is shredded and regranulated. The product – the transparent polystyrene regranulate – is used, for example, for the production of insulating boards made of extruder-foamed polystyrene foam. A further application is the production of building aggregates.
Avoiding waste
Expanded polystyrene as disposable packaging is now banned or soon will be – for example, cups for hot drinks. Online retailers are now also trying to avoid auxiliary packaging materials made of plastic. Remember that EPS is a plastic made from fossil raw materials and reject it as far as possible.