The Label SDK for environmentally Correct Waste Management
The Label SDK is an acknowledged label for environmentally correct waste management in companies which is granted by the Ministry of the Environment, the Chambre de Commerce and the Chambre des Métiers. Only the companies that have implemented the extensive concept for waste management of the SDK in their daily business routine receive the 'Label priméiert'.
Criteria for the label:
Motivation of all participants
Transposition of all measures for waste prevention
Visible and accessible collection sites
Safe and environmentally correct storage
Waste collection according to types
High quality and transparent waste recycling and disposal
Environmentally correct management
The label SDK is certified in accordance with the internationally accepted ISO 14024:2000 standard. This certificate comprises among other things the control procedures and requirements the inspectors have to satisfy. Thus waste management in the certified businesses fully meets the requirements for ISO 14024.
All companies receiving the label SDK are checked every year to ensure they continue to comply with the above criteria. In addition, companies that have carried the label for five continuous years receive a diploma and checks are then carried out only every second year.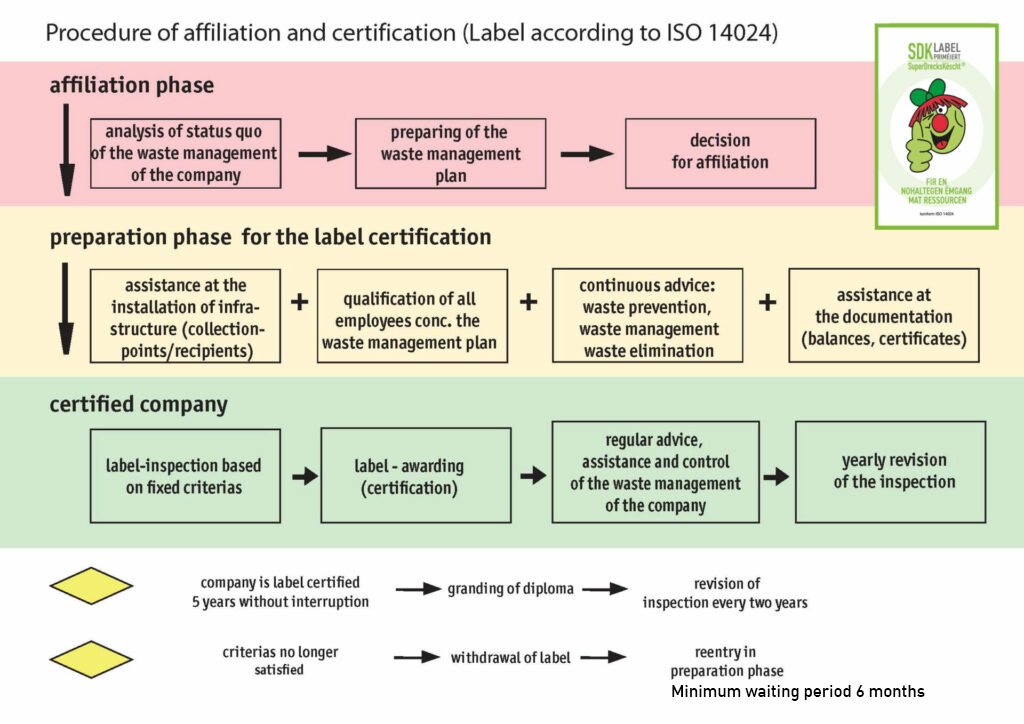 Interested? Then please contact us:
SDK fir Betriber
Tel.: 488 216 1
Email: info@sdk.lu