Mobile Collection
Mobile collections are carried out 4 times a year – either with the mobile Service-Center on central locations or as a door-to-door collection. Our collection trucks come to your house and will take away dangerous waste.
Our information flyer, which is distributed to all households, also contains information regarding the collected substances and details about the various activities of the SDK. All dates are available here below.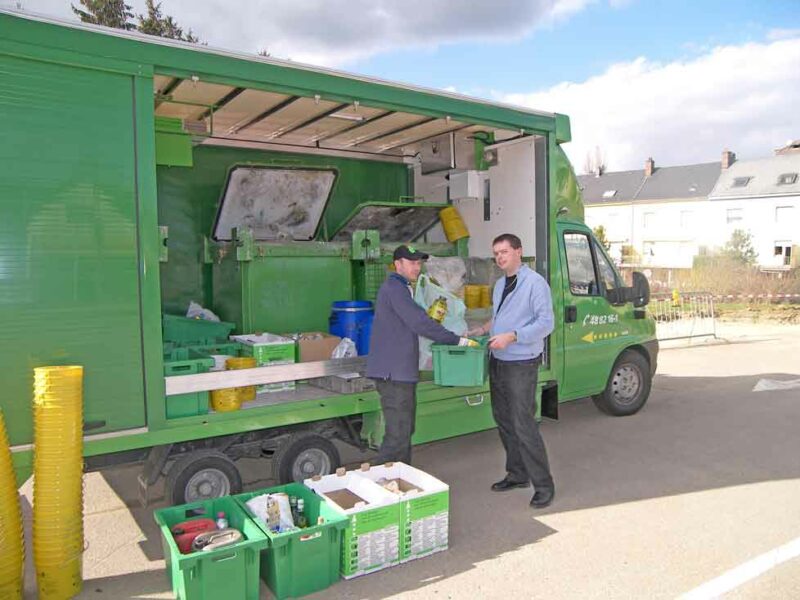 Many communes have waste calendars with the collection dates and structures.
For larger quantities of dangerous substances as for instance in the case of moving or house cleaning, the collection service of SuperDrecksKëscht® can be asked to intervene via : info@sdk.lu.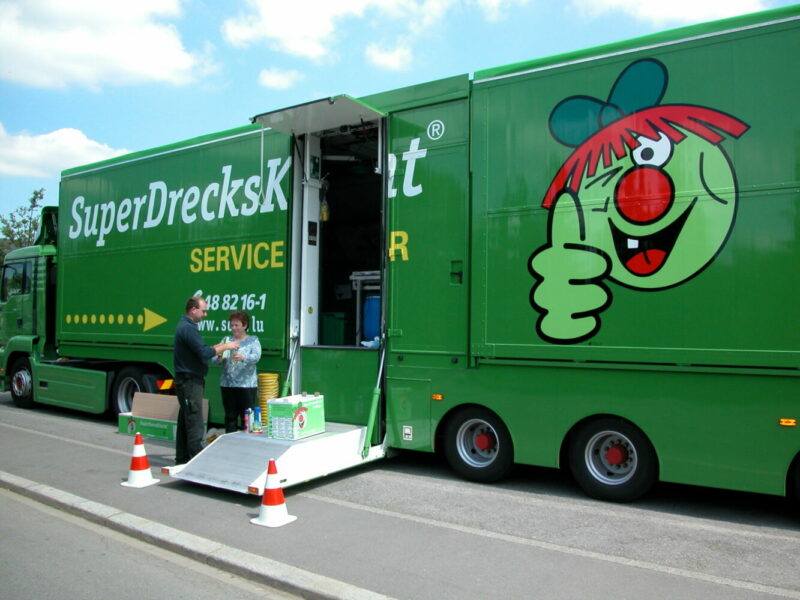 arenzdallgemeng
Medernach , Pletschette , Savelborn - Fuertgeshaff, Foschenterhaff, Kitzeburhaff, Gillenshaff, Grewenhaff, Reineschhaff, Schwanterhaff, Theinshaff, Neinenshaff, Ferme Kohn, Watschenterhaff, Kengert , Ermsdorf , Stegen , Brücherhof , Backesmühle , Neumühle, Reisermühle , Folkendange , Moserhof , Keiwelbach , Hessenmühle , Eppeldorf
24.08.2023 from 7:00
17.11.2023 from 7:00
beaufort
Beaufort , Dillingen , Grundhof
25.08.2023 from 7:00
21.11.2023 from 7:00
Beaufort, Parking Patinoire, Grand Rue
25.08.2023 7:30-15:30
21.11.2023 7:30-15:30
bech
Rue Marscherwald , Altrier , Hersberg , Kobenbour , Marscherwald , Rippig , Bech , Geyershof , Zittig , Hemstal
05.09.2023 from 7:00
29.11.2023 from 7:00
beckerich
Beckerich, rue d'Ell – Service Technique
26.07.2023 7:30-15:30
26.10.2023 7:30-15:30
berdorf
Bollendorf-Pont , Weilerbach , Birkelt , Posselt , Kalkesbach , Berdorf , Heisbich
25.08.2023 from 7:00
21.11.2023 from 7:00
bertrange
Zone Industrielle Bertrange, Rue de l'Industrie
08.08.2023 7:30-12:30
14.11.2023 7:30-12:30
bettembourg
Bettembourg, Eglise
15.06.2023 7:30-15:30
12.12.2023 7:30-15:30
Huncherange, Parking Cimetière
20.09.2023 7:30-15:30
bettendorf
Bettendorf , Gilsdorf , Moestroff
31.08.2023 from 7:00
23.11.2023 from 7:00
betzdorf
Deponie Muertendall, Buchholz-Muertendall
10.06.2023 9:00 - 15:00
24.06.2023 9:00 - 15:00
08.07.2023 9:00 - 15:00
bissen
Bissen, Parking Hall Sportif 1, rue des Sports
01.08.2023 7:30-15:30
02.11.2023 7:30-15:30
biwer
Deponie Muertendall, Buchholz-Muertendall
10.06.2023 9:00 - 15:00
24.06.2023 9:00 - 15:00
08.07.2023 9:00 - 15:00
Biwer, Parking Grousswiss
01.09.2023 7:30-15:30
24.11.2023 7:30-15:30
Brouch , Boudler , Boudlerbach , Breinert , Weydig , Biwer , Biwerbach , Hagelsdorf , Wecker , Wecker-Gare
01.09.2023 from 7:00
24.11.2023 from 7:00
boulaide
Boulaide , Flebour , Baschleiden , Surré
14.07.2023 from 7:00
17.10.2023 from 7:00
Boulaide, Parking rue du Curé
14.07.2023 7:30-15:30
17.10.2023 7:30-15:30
bourscheid
Lipperscheid , Schlindermanderscheid , Michelau , Goebelsmühle , Welscheid , Scheidel , Kehmen , Bourscheid
03.08.2023 from 7:00
07.11.2023 from 7:00
bous
Bous , Erpeldange , Rolling , Assel
07.09.2023 from 7:00
01.12.2023 from 7:00
Erpeldange, Parking Cimetière
07.09.2023 7:30-15:30
01.12.2023 7:30-15:30
clervaux
Fischbach , Grindhausen , Heinerscheid , Hupperdange , Kalborn , Lieler Clervaux , Mecher , Weicherdange , Urspelt , Reuler , Eselborn Marnach , Roder , Munshausen , Siebenaler , Draufelt
12.07.2023 from 7:00
11.10.2023 from 7:00
colmar-berg
Colmar-Berg , Welsdorf , Brosiushof , Karelshof , Lellingerhof
02.08.2023 from 7:00
03.11.2023 from 7:00
consdorf
Breidweiler , Colbette , Consdorf , Marscherwald , Scheidgen , Wolper
05.09.2023 from 7:00
29.11.2023 from 7:00
contern
Oetrange , Moutfort , Medingen , Contern
08.06.2023 from 7:00
12.09.2023 from 7:00
05.12.2023 from 7:00
Moutfort, Centre Culturel et Sportif
08.06.2023 7:30-15:30
12.09.2023 7:30-15:30
05.12.2023 7:30-15:30
dalheim
Dalheim, Filsdorf, Welfrange
29.08.2023 from 7:00
Dalheim,Waasserklapp
29.08.2023 7:30-15:30
28.11.2023 7:30-15:30
diekirch
Diekirch, Eglise
31.08.2023 7:30-10:30
23.11.2023 7:30-10:30
Diekirch, Parking Piscine rue Merten
31.08.2023 7:30-15:30
23.11.2023 7:30-15:30
differdange
Differdange, Parking Centre Village ( Contournement )
27.06.2023 7:30-10:30
27.09.2023 7:30-10:30
20.12.2023 7:30-10:30
Niederkorn, Parking Ecole, avenue de la Liberté
27.06.2023 7:30-9:00
27.09.2023 7:30-9:00
20.12.2023 7:30-9:00
Oberkorn, Place Steicher, avenue du Parc des Sports
27.06.2023 9:30-10:30
27.09.2023 9:30-10:30
20.12.2023 9:30-10:30
Lasauvage, Parking Ecole
27.06.2023 11:00-12:00
27.09.2023 11:00-12:00
20.12.2023 11:00-12:00
dippach
Dippach , Bettange , Sprinkange , Schouweiler
04.08.2023 from 7:00
10.11.2023 from 7:00
dudelange
Dudelange, Schwaarze Wee
20.06.2023 7:30-12:30
21.09.2023 7:30-12:30
13.12.2023 7:30-12:30
echternach
Echternach, rue Alferweiher vis-à-vis Voyages Bollig
17.06.2023 8:00 - 13:00
01.07.2023 8:00 - 13:00
15.07.2023 8:00 - 13:00
Echternach, Parking "A Kack" (Kirmesplatz)
05.09.2023 7:30-15:30
29.11.2023 7:30-15:30
ell
Ell , Colpach-Bas , Colpach-Haute , Petit-Nobressart , Roodt
21.07.2023 from 7:00
25.10.2023 from 7:00
erpeldange-sur-sure
Burden , Erpeldange-sur-Sûre , Ingeldorf
03.08.2023 from 7:00
07.11.2023 from 7:00
Erpeldange-sur-Sûre, Gruefwee Parking Hall de Tennis
03.08.2023 7:30-15:30
07.11.2023 7:30-15:30
esch-sur-alzette
Esch-sur-Alzette, Place Norbert Metz
13.06.2023 7:30-8:30
14.09.2023 7:30-8:30
07.12.2023 7:30-8:30
Esch-sur-Alzette, Place de la Résistance , Brill
13.06.2023 9:00-10:00
14.09.2023 9:00-10:00
07.12.2023 9:00-10:00
Esch-sur-Alzette, Place Bois Clair-Chêne
13.06.2023 10:30-11:30
14.09.2023 10:30-11:30
07.12.2023 10:30-11:30
Esch-sur-Alzette, Parking bvd Aloyse Meyer
13.06.2023 7:30-15:30
14.09.2023 7:30-15:30
07.12.2023 7:30-15:30
esch-sur-sure
Esch-sur-Sûre , Eschdorf , Hierheck , Merscheid , Heiderscheid , Bonnal , Bourgfried , Insenborn , Lultzhausen , Neuhof , Neunhausen Heiderscheidergrund , Tandler , Ringel , Dirbach
18.07.2023 from 7:00
18.10.2023 from 7:00
Heiderscheid, ancien Atelier Technique
18.07.2023 7:30-15:30
18.10.2023 7:30-15:30
ettelbruck
Ettelbrück, Parking Stade Am Deich
02.08.2023 7:30-15:30
03.11.2023 7:30-15:30
feulen
Niederfeulen , Oberfeulen , Feelerhecken
02.08.2023 from 7:00
03.11.2023 from 7:00
fischbach
Angelsberg , Schoos , Fischbach , Koedange , Schiltzberg , Weyer , Stuppicht , Plankenhaff
23.08.2023 from 7:00
16.11.2023 from 7:00
flaxweiler
Deponie Muertendall, Buchholz-Muertendall
10.06.2023 9:00 - 15:00
24.06.2023 9:00 - 15:00
08.07.2023 9:00 - 15:00
frisange
Frisange , Hellange , Aspelt
09.06.2023 from 7:00
13.09.2023 from 7:00
06.12.2023 from 7:00
Hellange, Hoënerwee Parking Cimetière
09.06.2023 7:30-15:30
13.09.2023 7:30-15:30
06.12.2023 7:30-15:30
garnich
Garnich , Dahlem , Hivange , Kahler
04.08.2023 from 7:00
10.11.2023 from 7:00
Garnich, Botterkräiz
04.08.2023 7:30-15:30
10.11.2023 7:30-15:30
goesdorf
Goesdorf , Dirbach Plage , Goebelsmühle, Masseler , Bockholtz , Dahl , Nocher , Büderscheid
01.08.2023 from 7:00
Goesdorf, Maison Communale
02.11.2023 7:30-12:30
grevenmacher
Deponie Muertendall, Buchholz-Muertendall
10.06.2023 9:00 - 15:00
24.06.2023 9:00 - 15:00
08.07.2023 9:00 - 15:00
grosbous
Grosbous , Dellen
25.07.2023 from 7:00
24.10.2023 from 7:00
habscht
Eischen
09.08.2023 from 7:00
08.11.2023 from 7:00
Hobscheid , Septfontaines , Roodt , Greisch
10.08.2023 from 7:00
09.11.2023 from 7:00
heffingen
Heffingen, Parking bus
24.08.2023 11:30-14:30
17.11.2023 11:30-14:30
helperknapp
Boevange Attert , Grevenknapp , Finsterthal , Openthalt , Buschdorf , Brouch , Ansembourg , Bour , Hollenfels , Marienthal , Tuntange
27.07.2023 from 7:00
27.10.2023 from 7:00
Tuntange Parking Service Technique 1B, rue de Hollenfels
27.07.2023 7:30-15:30
27.10.2023 7:30-15:30
hesperange
Hesperange, Parking P & T, Rte de Thionville
09.06.2023 7:30-9:30
13.09.2023 7:30-9:30
06.12.2023 7:30-9:30
Itzig, Eglise
09.06.2023 10:00-11:00
13.09.2023 10:00-11:00
06.12.2023 10:00-11:00
Howald, Parking Avenue Grand Duc Jean
09.06.2023 11:30-13:30
13.09.2023 11:30-13:30
06.12.2023 11:30-13:30
kaerjeng
Bascharage, Place Robert Schuman
21.06.2023 7:30-9:30
22.09.2023 7:30-9:30
14.12.2023 7:30-9:30
Hautcharage, rue de la Gare
21.06.2023 10:30-11:30
22.09.2023 10:30-11:30
14.12.2023 10:30-11:30
Linger, Centre Sociétaire
21.06.2023 12:00-13:00
22.09.2023 12:00-13:00
14.12.2023 12:00-13:00
Clemency , Fingig
21.06.2023 from 7:00
22.09.2023 from 7:00
14.12.2023 from 7:00
Clemency, Parking Ob der Gare
21.06.2023 7:30-15:30
22.09.2023 7:30-15:30
14.12.2023 7:30-15:30
kayl
Kayl , Tetange
27.06.2023 from 7:00
27.09.2023 from 7:00
20.12.2023 from 7:00
Kayl, Parking Brill
27.06.2023 7:30-15:30
27.09.2023 7:30-15:30
20.12.2023 7:30-15:30
kehlen
Keispelt Meispelt, vis-à-vis Hall Fakeme
28.07.2023 7:30-15:30
31.10.2023 7:30-15:30
kiischpelt
Pintsch , Lellingen , Wilwerwiltz , Enscherange, Kautenbach , Merkholtz , Alscheid
13.07.2023 from 7:00
12.10.2023 from 7:00
koerich
Goeblange , Goetzingen , Koerich , Windhof
28.07.2023 from 7:00
31.10.2023 from 7:00
kopstal
Kopstal , Bridel
08.08.2023 from 7:00
14.11.2023 from 7:00
lac-de-la-haute-sure
Bavigne , Liefrange , Kaundorf , Mercher , Nothum , Harlange , Tarchamps , Watrange
14.07.2023 from 7:00
17.10.2023 from 7:00
larochette
Larochette, 2 - rue de Medernach
11.08.2023 7:30-13:30
15.11.2023 7:30-13:30
lenningen
Deponie Muertendall, Buchholz-Muertendall
10.06.2023 9:00 - 15:00
24.06.2023 9:00 - 15:00
08.07.2023 9:00 - 15:00
leudelange
Leudelange, Place du Lavoir
22.06.2023 7:30-15:30
26.09.2023 7:30-15:30
19.12.2023 7:30-15:30
lintgen
Lintgen
01.08.2023 from 7:30 3 jours à l'avance/3 Tage im Voraus tel 320359-1
02.11.2023 from 7:30 3 jours à l'avance/3 Tage im Voraus tel 320359-1
lorentzweiler
Lorentzweiler, Atelier technique 15, rue de Hünsdorf
23.08.2023 7:30-10:30
16.11.2023 7:30-10:30
luxembourg
Hollerich, Parking vis-a-vis Athénée
28.06.2023 7:30-10:00
28.09.2023 7:30-10:00
21.12.2023 7:30-10:00
Gasperich, Parking Rue Jacques Stas
28.06.2023 7:30-9:30
28.09.2023 7:30-9:30
21.12.2023 7:30-9:30
Merl, coin rue de Merl, rue Saint-Hubert
28.06.2023 10:00-11:30
28.09.2023 10:00-11:30
21.12.2023 10:00-11:30
Gare, Parking rue Jean-Baptiste Merkels
28.06.2023 10:00-11:30
28.09.2023 10:00-11:30
21.12.2023 10:00-11:30
Cessange, Parking Rue St. Joseph
28.06.2023 12:00-13:30
28.09.2023 12:00-13:30
21.12.2023 12:00-13:30
Hamm, Parking vis-à-vis de Eglise
28.06.2023 12:00-13:30
28.09.2023 12:00-13:30
21.12.2023 12:00-13:30
Neudorf, Parking rue de Grünewald ( Cimetière )
28.06.2023 10:30-13:30
28.09.2023 10:30-13:30
21.12.2023 10:30-13:30
Belair, Bvd Grande-Duchesse Joséphine Charlotte (Parking Container)
28.06.2023 7:30-9:30
28.09.2023 7:30-9:30
21.12.2023 7:30-9:30
Bonnevoie, Place Jeanne d'Arc
29.06.2023 7:30-13:30
29.09.2023 7:30-13:30
22.12.2023 7:30-13:30
Dommeldange, Place de la Gare
29.06.2023 7:30-9:30
29.09.2023 7:30-9:30
22.12.2023 7:30-9:30
Cents, Parking Tawioun ( Cimetière )
29.06.2023 7:30-9:30
29.09.2023 7:30-9:30
22.12.2023 7:30-9:30
Beggen , Weimerskirch
29.06.2023 from 7:00
29.09.2023 from 7:00
22.12.2023 from 7:00
Kirchberg,rue des Maraîchers terrain de sports
29.06.2023 10:00-12:00
29.09.2023 10:00-12:00
22.12.2023 10:00-12:00
Limpertsberg , Rollingergrund , Mühlenbach
29.06.2023 from 7:00
29.09.2023 from 7:00
22.12.2023 from 7:00
Pulvermühle , Grund , Pfaffenthal , Clausen
29.06.2023 from 7:00
29.09.2023 from 7:00
22.12.2023 from 7:00
mamer
Mamer, Parking route de Dippach
04.08.2023 7:30-10:30
10.11.2023 7:30-10:30
manternach
Berbourg, Parking Terrain de Football
17.06.2023 9:00 - 14:00
15.07.2023 9:00 - 14:00
19.08.2023 9:00 - 14:00