Print media (toner, ink)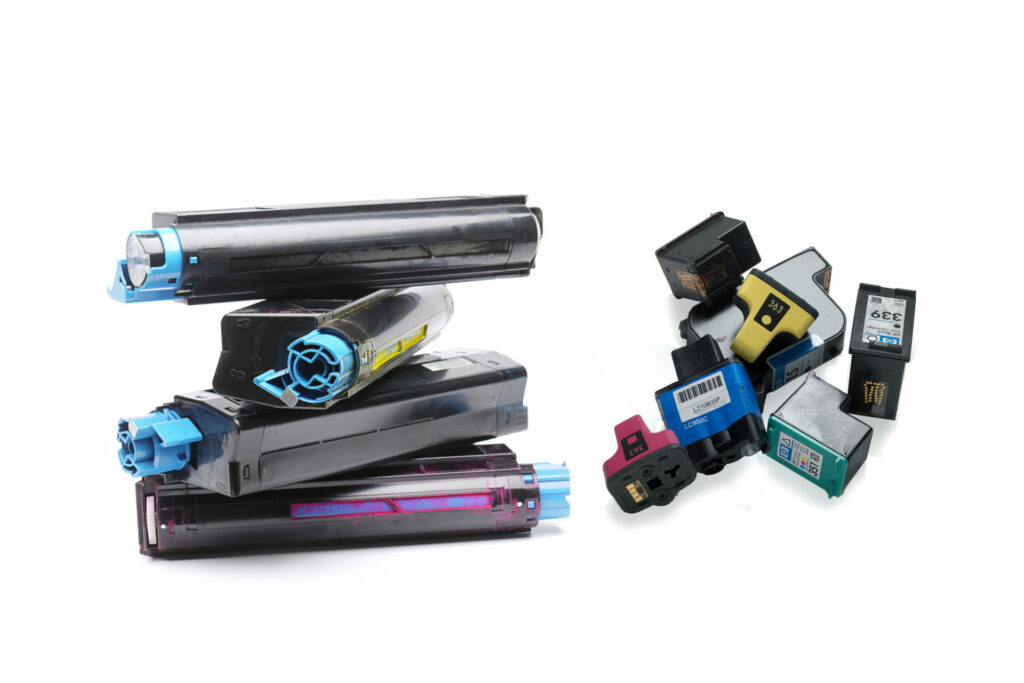 Computers, printers and copiers have found their way almost everywhere, even in private households. Accordingly, toner cartridges and ink cartridges are becoming increasingly important as consumables.
Ink cartridges are filled with an alcohol-water dye mixture, in the toner cartridges is a very fine powder that can be harmful to health when inhaled. However, ink cartridges and toner cartridges do not belong in the residual waste because they can be fully or partially reused or recycled.
In accordance with the requirements of the Waste Management Act, SDK works with partners who not only fulfil the waste hierarchy (waste prevention before recycling), but also the strict criteria for sustainability, quality and transparency.
What happens during recycling ?
At the SDK in Colmar-Berg, the print media are already sorted into different categories according to the partners' specifications. During refilling, toner cartridges are cleaned of toner powder residues and then disassembled, thereby checking the functionality of the parts. Defective parts are replaced and the toner cartridges are refilled and made available for sale after quality control. Ink cartridges can also be refilled.
The second option is material recycling. Empty modules that cannot be recycled are shredded so that the components plastics, metal and residual materials (ink, foam) can be recovered. In this way, a large part of the materials can be recovered as raw materials and used for the production of new products. It is only through this form of recycling that the raw material cycle is almost completely closed and this is thus significantly more sustainable than thermal use of the end-of-life products.
In thermal recycling, defective toner cartridges and ink cartridges are incinerated together with toner waste in a high-temperature incineration plant, utilising their energy content as much as possible.
What can the consumer do?
Ink and toner cartridges can be returned to SDK fir Bierger. When buying printers and copiers, attention should also be paid to the consumption of ink and toner. Tests by consumer associations are helpful here.
And another tip: Many printers and copiers are much cheaper to buy than the cost of replacing the consumables. Before the purchase, private users should therefore also carry out a cost calculation, taking into account the number of pages and the resulting consumption of toner or ink. A higher purchase price can often pay for itself in less than a year.