Candles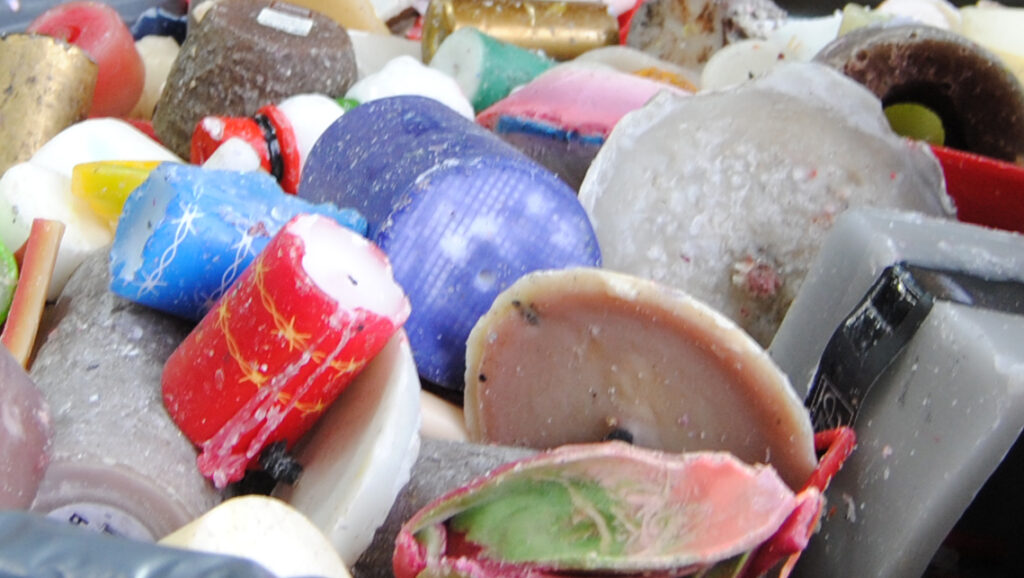 Candle recycling in cooperation with the "Käerzefabrik Peters" (candle factory)
Candles are not only beautiful, their wax is also a valuable raw material. Every household produces wax remnants and candle stubs that are normally disposed of. But what happens to them once they have burned down? Because it is a pity about the energy that is still in them.
Since 2020, the SuperDrecksKëscht® has been organising the collection of candle remnants via the SDK's problem product collection in cooperation with the 'Käerzefabrik Peters' in Heiderscheid.
Therefore, do not dispose of unused or not completely burnt candles in the residual waste! Use the mobile collection of the SuperDrecksKëscht® or hand them in at your resources center.
The candle remnants are first checked at the SDK centre in Colmar-Berg to see if they meet the specifications. At the 'Käerzefabrik Peters', the candle remnants are then used in the production of new candles, torches and burning bowls.
The reuse of candles and candle wax in Luxembourg is a good example of circular economy and the promotion of local producers and cycles.
Join in ! Bring back candle remnants !
Safety and other tips
A candle is an open fire, the flame can get up to 1400 degrees hot. Therefore, always place candles on a solid, heat-resistant coaster.
Thick candles should burn each time at least until the entire burning plate has become liquid. Otherwise they will burn hollow and the flame may die.
There are numerous tips on the internet for recycling candle remnants yourself.
Here are some examples:
Cast new candles. Cotton yarn or ready-made wicks can be used as wicks. This does not always work because of different types of wax.
Melting fire. All you need for this is a fireproof ceramic vessel into which the candle stubs are poured and a thicker wick in a holder placed in the middle.
Commercially available lighters often contain substances that can be harmful to health and the environment. Lighters made from wax remnants with egg cartons, sawdust or e.g. conifer cones are an environmentally friendly alternative.
SDK-Infoblatt (german and french)
The outdoor candle made from the candle remnants is an SDK circular product and can be purchased through Letzshop.