Material for heat and sound insulation
Info:
Glass and rock wool fibers can be damageable for health. PU foam used to be foamed with CFC and has to be disposed of separately Styrodur is more compact and harder than Styropor and does not have the latter's fine pearl structure.
Preventing/Reducing:
During any construction and renovation work, take care on subsequent dismantling. If the products are unmixed, clean and separated correctly, then they can be recycled.
Recycling/environment correct disposal:
Glass and rock wool are shredded and sieved in a special installation. Mineral fiber powder obtained by this process is used in the construction material industry. PU foam is shredded and CFC collected. The CFC free powder is used as oil bonding agent (Oeko-PUR®). Styropor® and Styrodur® are also shredded and used for the production or new products.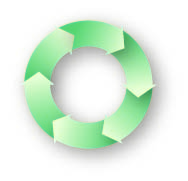 lMPORTANT! Do not put in the residual waste! Do not incinerate!