Safety management – Industrial and environmental safety
A well-designed safety concept allows preventing dangers for human beings and the environment. Extensive modernizing works in autumn 2003 have made the SuperDrecksKëscht® Center compliant with state of the art safety techniques.
Safety of human beings and the environment is guaranteed by several measures: active carbon filters for used air, measuring of room and used air, regular training of staff as well as the use of adequate protective equipment as for instance protective clothes, glasses, gloves and shoes.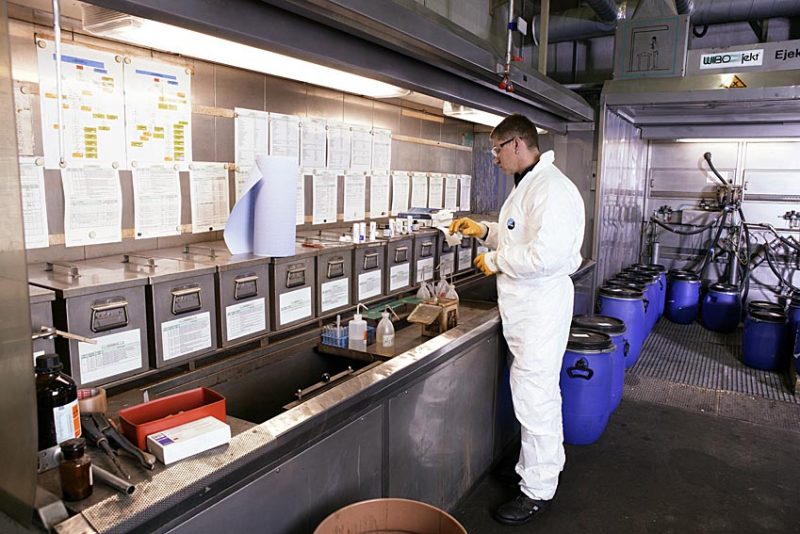 Sorting chemicals, brines and acids, solvents and pesticides is only carried out in special work environments with a controlled atmosphere.
The shelves of the warehouse for dangerous substances comply with highest safety standards (warehouse shelves with collecting containers and leakage sensors as well as ex-sensors) in which substance groups are stored in accordance with their danger potential and chemical properties. Leakage or the generation of inflammable fume mixtures are immediately reported and thus intervention is possible in shortest time.
Automatic fire detection installations as well as an elaborate extinguishing water retention system make sure that in a case of emergency, danger for the environment and the underground water are kept as low as possible. The SuperDrecksKëscht® Center is permanently under supervision by technical means as movement detection and cameras as well as control rounds.
There is a close collaboration with the office for the environment, the industrial inspection and the local fire brigade.